When it's hot enough to fry an egg on the sidewalk until it's charred to a leave-the-diner-without-paying level, it's time to take "cool down" into your own hands. If you find yourself scrambling for easy ways to stay cool that don't include your AC, try these low-cost cool down ideas right away!
1. Create your own shade for patios and decks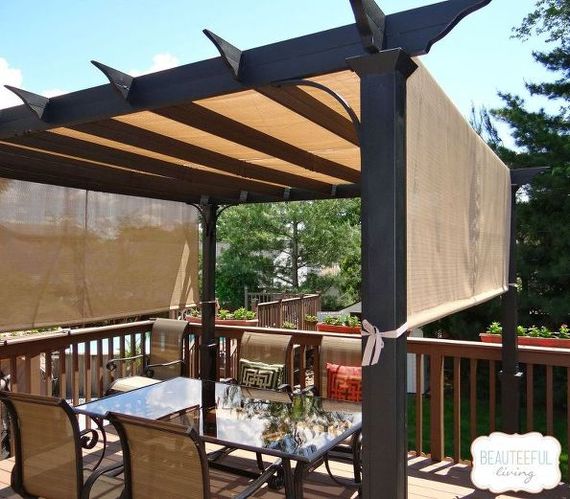 Project via Tee @Beauteeful Living
Turn a sun-baked backyard into a breezy oasis, by adding inexpensive shade covers to open patios, porches, and pergolas.
2. Keep a small ice bucket filled with drinks close by while you're outdoors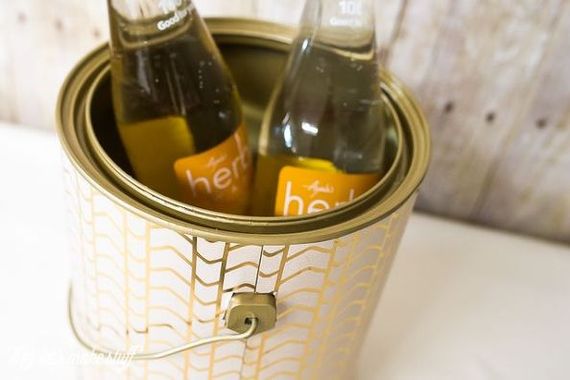 Project via Cori @Hey, Let's Make Stuff
Cold drinks are a great way to cool your body down inside and out. Keep some chilled bottles closeby, by turning an empty bin or bucket into an outdoor ice bucket.
3. Or better yet, bring out a summertime drink cart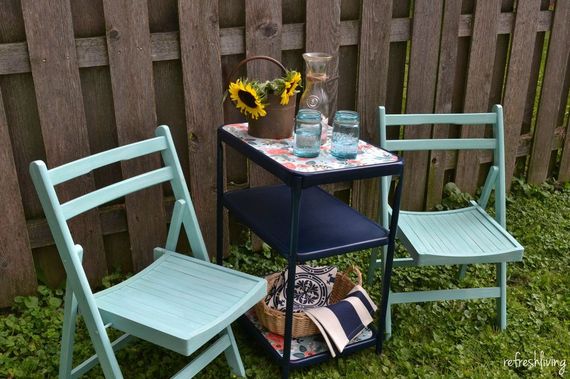 Project via Jenny @Refresh Living
Outfit a small cart with glasses, drinks, and ice, and keep it at the ready, to cool down guests and kids enjoying time outside.
4. Have a sponge ball fight on the lawn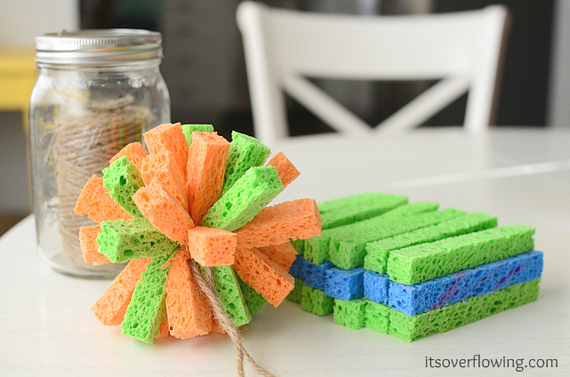 Project via Aimee @It's Overflowing
Cut up Dollar Store sponges, to create the perfect weapon to pleasantly surprise your kids (or guests)!
5. Add water gun stations around your yard for impromptu cool-off battles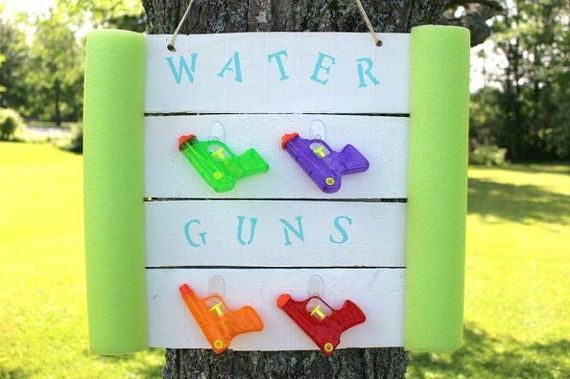 Project via Andrew @Scrappy Geek
This pool-noodled station will keep you from losing neon plastic pistols all over your lawn, and it's also a great way to "cool someone off" when they're least expecting it.
6. Spend plenty of time in the pool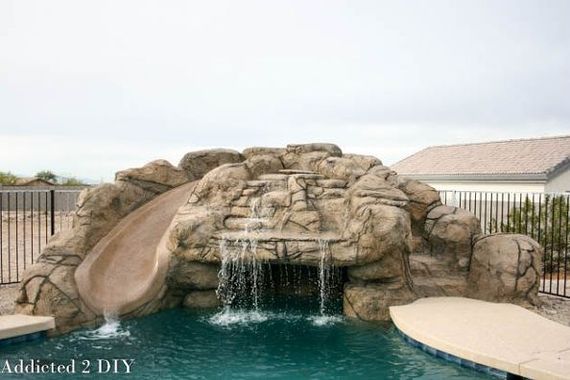 Project via Katie @Addicted 2 DIY
If you don't have an awesome dream pool of your own, invite yourself over to a friend's. Don't worry – they'll understand.
7. Or set up a temporary stock tank pool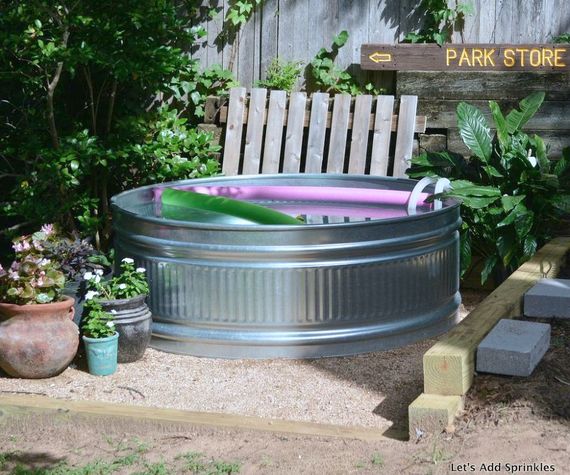 Project via Katie @Let's Add Sprinkles
You don't need a full sized pool to stay cool – a stock tank has just enough room to sink down and escape the heat and it costs less than $300!
8. Or just lounge poolside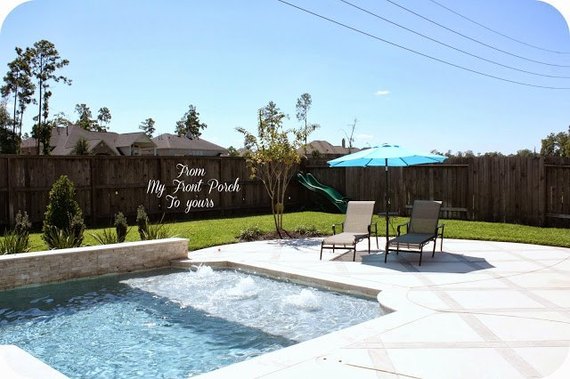 Project via Pamela @From My Front Porch to Yours
You don't have to go in the water to enjoy it – just sit close by, where the breeze and any spray coming off the water (from your splash-crazy kids) can reach you.
9. Find a shady spot in your garden and lie down in the grass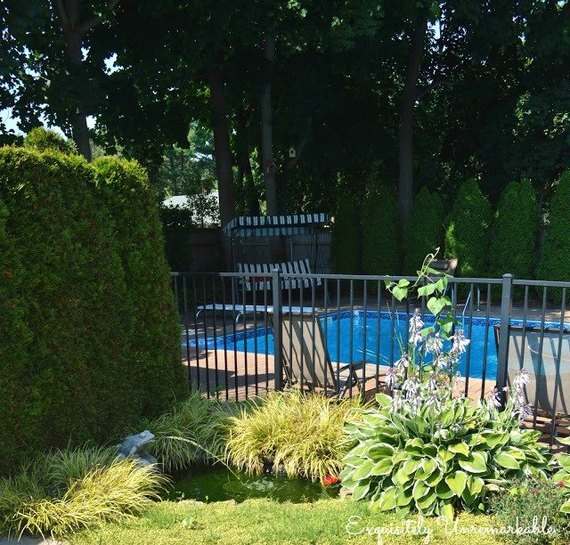 Project via Kim @Exquisitely Unremarkable
Even when it's boiling outside, a patch of lush green grass in the shade will still be cool to the touch. Lie down flat on your back (or on your front, if you're really adventurous) and lose that hot and bothered mood.
10. Set up a delicious sundae bar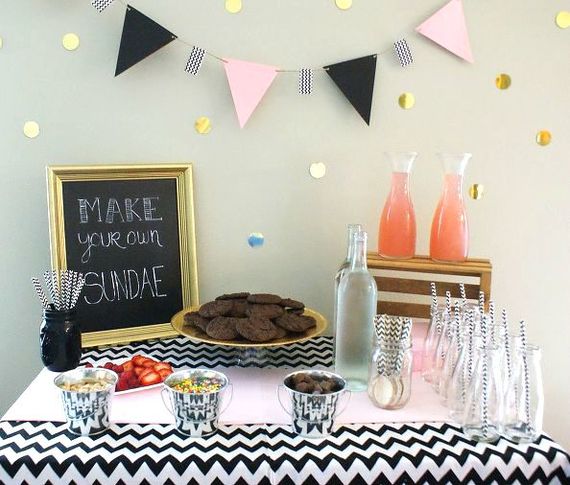 Project via Jillian @Jillianistasia
With this sweet set-up you can enjoy a delicious dessert that will simultaneously keep you cool (and we're not counting brain freeze).
For more cool down ideas, check out our DIY page on Hometalk!
Also on HuffPost:
Close
remove stick price tags.

using a baking soda and water cleaning solution.

to reuse their glass holders.

using crumpled aluminum foil.

using a coffee filter.

using a colander.

to clean your outdoor grill.

catch the debris when using a drill.

remove coffee and tea stains on your cups.

by wiping your space down with vinegar.

unclog your drains.

by using rubber bands to keep them in place.

by using binder clips to keep them in place.

fix stubborn carpet dents.

save time and money when ironing clothes.

clean those hard-to-reach places in vases.

make your own broom.

and six other home tasks you've probably been neglecting.

they're a huge germ hot spot.

using baking soda.

help from your hair dryer.

by placing your items on cutting boards.

by using a clothing hanger.

by rubbing it down with flat beer.

with a rub of toothpaste.

with these easy laundry tips.

clean small spaces in your home.

that are dirtier than your toilet.

by dusting your lightbulbs.

to organize your hair ties.

by standing it upright with a binder clip.

to organize your bathroom.

using shower curtain hooks.

with these mail organizing tips.

to mark your keys and prevent losing track of them.

by lining the bottom of your trashcan with newspaper.

with these stress-free organizing tips by 'A Bowl Full Of Lemons' blogger.

clean out bottles with persistent odors.

water your plants.

a bar of soap.

make nifty magazine storage.

make your pillows fluffy again.

clean stainless steel appliances.

help you dust a ceiling fan.

remove rust stains from your toilet.

make your home smell like cookies all day.

as air purifiers at home.

to deodorize your home.

How often should you wash scarves, gloves and hats?

eliminate litter box odors.

keep dust baseboards clean.

eliminate litter box odors.

They're kind of gross.

protect floors from scratches when moving furniture.

polish forks between the tines.

using a hanging shoeholder.

remove paint stains on the floor.

Browse through these surprising bathroom items that have expiration dates.

clean your toilet bowls.

to clean your cheese grater.

It's one dirty little thing.

to remove sticky price tags.

as a garbage bin.

Check and clean your vacuum without making a mess.

clean your coffee grinder.

Don't let it ruin your New Year's Eve!

remove oil stains on cement.

remove ink stains from fabric.

make your fire smell even better this winter.

Make sure you aren't exposing your best friend to any harmful chemicals.

remove water marks from wood surfaces.

a Post-It note?

remove scuff marks from vinyl flooring.

It's the dirtiest part in your home, so make sure you're cleaning it thoroughly!

with plastic bags filled with ice

reduce static cling on your clothes.

with this beauty salon product.

fix scratches on CDs.

clean a dirty wall.

attach pairs of socks so you'll never have a mismatched pair again!

remove staples.

filling them with baking soda and putting them in the fridge.

with foam rubber, which can be found on dry-cleaning hangers.

increase suction of a toilet plunger and keep it in good shape.

help remove wine stains from your tablecloth.

place a teabag in water in the microwave.

clean food particles out of your can opener.

stop a shower curtain from sticking.

safely store candles.

create a yummy (and all-natural!) home fragrance.

help clean the keys and buttons on your cell phone, laptop and remote control.

remove grease stains from clothing.

remove paint odor from any room.

naturally polish silver.

silence squeaky door hinges.

protecting doorknobs and other hardware while painting.

help you clean soap scum from your shower.

fix a shrunken shirt.

help dry your delicate sweaters.

clean your bathtub.

remove mineral stains from glasses.

freshen a linen closet.

collect particles from your broom.

turn discolored socks white again.

clean laminate floors.

dust Venetian blinds.

clean the dust off your houseplants.

clean burnt food out of your oven.

get rid of spiderwebs in your home.

remove gum from the soles of your shoes.

clean up an egg spill.