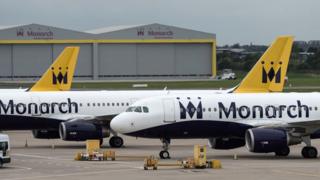 Shares in Saga, the over-50s travel and insurance specialist, have plummeted by nearly 19% after it warned on profits.
The company said profits in the current financial year would grow more slowly than expected, and that 2018's profits would be 5% lower than this year's.
It said it had been hit by the collapse of Monarch Airlines in October and had faced "more challenging" trading conditions in insurance broking.
When Monarch failed in October, Saga had to switch to other carriers.
This resulted in a one-off cost of £2m.
In its trading update, Saga said it expected its pre-tax profits for the year to the end of January to rise by between 1% and 2%.
"This has been impacted by more challenging trading in insurance broking during the period and the Monarch Airlines administration, which has affected our Tour Operations business," the firm said.
"Our Travel segment continues to trade well and is expected to be strongly ahead of the prior year. However, the Tour Operations business has been impacted by the collapse of Monarch Airlines with an approximate one-off cost of £2m."
Saga said it expected an increase in the profitability of its insurance broking and travel businesses next year, "including the approximately £10m of annualised savings from the actions we have taken in the current year".
However, it added: "Offsetting this will be a lower level of written to earned benefit and a decline in reserve releases.
"These headwinds and our decision to invest an additional £10m into customer acquisition is expected to result in underlying profit before tax for next year being approximately 5% lower than the current year."
It said it expected the current year's dividend to be in line with expectations.